News from the Stearns History Museum
Keep this page on your radar to see what's fresh out of the vault, upcoming events, new program announcements, upcoming exhibits, historical tidbits, and more.
A Little History is a monthly program for preschool-age children. They will make crafts, play games and discover historic stories. It takes place at 10 a.m. on the last Wednesday of the month. 2020 Topics Include: January 29 –  Russian Nesting Dolls February ...
Last updated on Jan. 26th, 2023 Adrian, Garland & Douglas-Belgrade 1901 Adrian, Gerald & Shirley-Freeport 1888 Albrecht, Ermin & Clarice-Paynesville 1873 Altendahl, Allen & Carol-Saint Martin 1891 Ampe, Jeff & Vicky-Paynesville ...
In June of each year the Stearns History Museum will honor Stearns County families by designating their farms as Century Farms with the installation of commemorative markers. The Museum's Century Farm program recognizes the long history of Stearns County farmers as ...
The Whippersnapper Hour is a new monthly program for children, ages 7-12. It will be held on the third Saturday of each month, now through May. This fun program takes a hands-on approach to learning history. Cost:  Same as the Museum Cost of Admission for Children ...
The Stearns History Museum Community Grant provides funding to Stearns County 501(c) 3 historical entities for projects that preserve County history. The grants must support projects that strengthen the ability of organizations to preserve their community history and ...
Memory Writers is a writing group that meets twice a month on the first and third Tuesdays at 10:00 am.  The group develop topics to write about and in turn shares those stories. This program is free to Museum members (non-members $7). Join the Memory Writers as they ...
The Civil War Roundtable meets at 3:00 PM the 2nd Tuesday of each month. We meet right here at the Stearns History Museum, and no RSVP is required. ... Upcoming Topics: February 11 – Abraham Lincoln's Life and Legacy Joyce and Jim Hinderks will ...
Love history? Join us at Breakfast Club where speakers will inform and entertain guests on a variety of topics from agriculture to WWII, from immigration to cheese making. Every month a new story is told in this remarkable series. Refreshments are served. Breakfast ...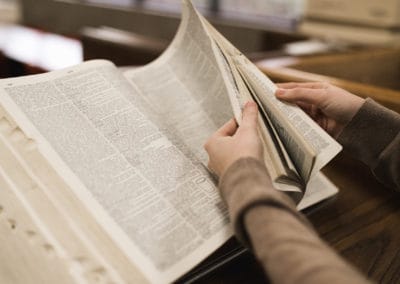 Research Center Fees • 10% Discount off all fees for Members • Stearns County birth and death records Information: $15 per individual name search. • Stearns County marriage for one bridal couple, $15. Available: month and year from 1856-1900, full date and location ...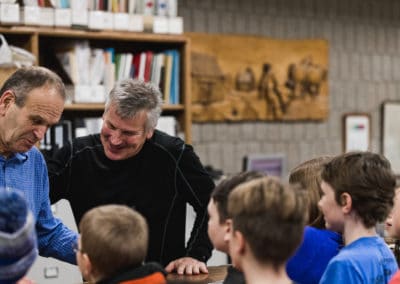 Happy History Day! If you're visiting the museum, consider checking out our online catalog before you visit: researchcenter.stearnshistorymuseum.org Whether your search is casual, personal, or scholarly, you will find many resources at the Stearns History Museum. A ...
Dear Museum Friends and Family, As the holiday season approaches I hope this note finds you happy and healthy. SHM made an impact in our community in 2019!  We broadened our mission, connecting people to the power of history and culture, and created a vision for the ...