News from the Stearns History Museum
Keep this page on your radar to see what's fresh out of the vault, upcoming events, new program announcements, upcoming exhibits, historical tidbits, and more.
Christopher Lehman and Derek Larson joined the Board of Directors at the Stearns History Museum during the second half of 2020. Lehman, an ethnic studies professor and chair at St. Cloud State University, joined the Board in August 2020. He has written several books ...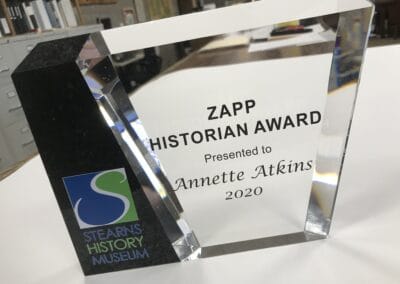 Annette Atkins, a longtime board member of the Stearns History Museum, recently received the 2020 Zapp Historian Award. The honor recognizes her efforts in promoting the rich history of Stearns County and Central Minnesota. Each year the Museum presents the award to ...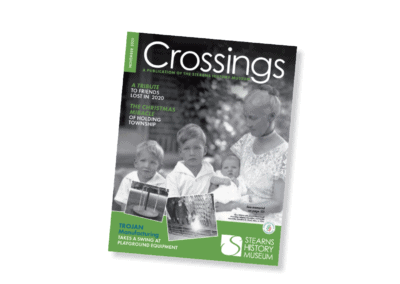 NOTE: This article originally appeared in the November 2020 issue of Crossings, a magazine exclusively produced for museum members. To read the whole story and receive the magazine four times per year, simply purchase an annual membership to the Stearns History ...
WHAT A YEAR 2020 HAS BEEN! Stearns History Museum is as committed as ever to our mission, connecting people through the power of history and culture, and to our vision. We continue to serve you, even if our delivery is different than it was nine months ago. We ...
COVID-19 Precautions: The Stearns History Museum is pleased to be serving you digitally through our online catalog, phone, email, and on social media through January 2021! Staff are available Tuesday through Saturday.   Email: info@stearns-museum.org Phone: ...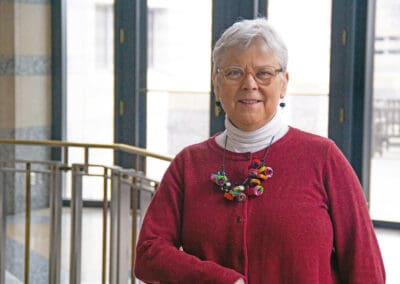 Museum Board Member Receives County Honor Stearns County recognizes educator, author for lifelong work, public history advocacy Annette Atkins, a longtime board member of the Stearns History Museum, was named a historian laureate by the Stearns County Board of ...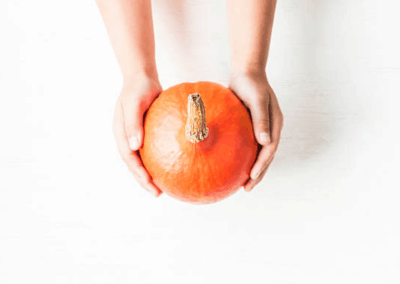 It's time for another episode of Harvest History! In this episode, we are going to look at that most glorious symbol of fall in America, the pumpkin! We'll go through a brief history of this crop's dominance in the Americas, and then show you how to make a pumpkin pie ...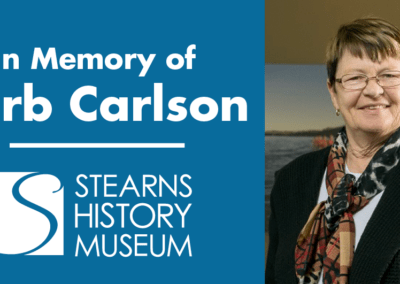 The Stearns History Museum extends our sympathy to the friends and family of Barb Carlson, who has been a member of the Board of Directors since 2014 and led our Development Committee for several years. She and her husband Jerry also are longtime members and ...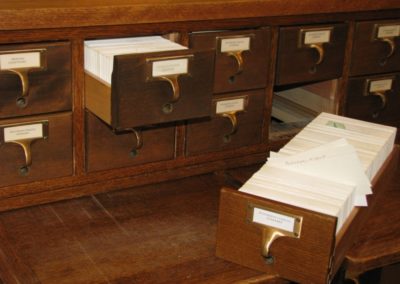 The Stearns History Museum recently received an Institute of Museum and Library Services (IMLS) grant for $21,444 to update its archival catalog system. The new catalog will allow you and other users to search for materials online in a much easier way and order photos ...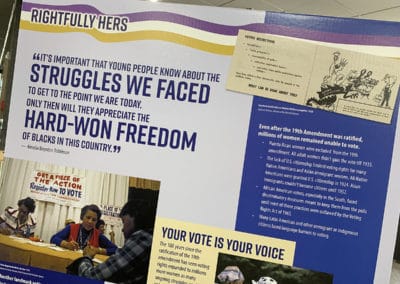 A new pop-up exhibit from the National Archives, Rightfully Hers, commemorating the 100th anniversary of the 19th Amendment, is available for viewing at the Stearns History Museum through November 25, 2020. Rightfully Hers explores the history of the 19th Amendment, ...
At the Stearns History Museum, we share the heartbreak over the killing of George Floyd and see the stark societal, cultural, and economic cracks that his death has exposed.  We embrace all people who are intolerant of injustice, who are actively opposed to racism, who ...
WE'RE DEBUNKING "MUSEUM MYTHS" to show you what we really have to offer. SAVE $5 USING THESE PROMO CODES:  Family Membership | SHMFAMILY Individual Membership | SHM4YOU One discount per purchase. Some restrictions may apply.